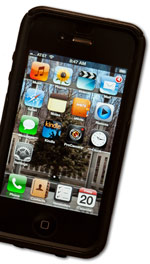 There is nothing quite as annoying as having tech not work as expected. We depend so much on our computers and smartphones now days that when something fails it makes us completely reorganize our lives… which has happened to me more times than I'd like this month. It started on April 1st when my mom called from Arizona when her computer failed… the next week was spent setting up a new one via remote access for her. It is absolutely amazing how far things have come since I first used a computer in 1983. The fact that current technology allows me to set up a computer that is 2500 miles away is mind boggling when you really think about it. All my mom had to do was insert cds and occassionally turn it on…
Last week it was my iPhone… for some reason both my iPod and iPhone started having random sync errors following update Tuesday's slew of updates… This was quite annoying as it threw my morning routine of syncing the BBC World Update Morning Commute to my iPhone to listen to some actual news (it is pathetic what seems to pass as 'news' in America) on the trip to/from my son's school completely off… I know minor thing not having the morning news especially when compared to us losing power for a week last August when Irene came through but it was still annoying. Not the missing the news as much as the fact my iPhone, which has been one of the least frustrating tech devices I've ever used, wasn't playing right…
The random errors included:

Claiming sync could not be completed because the iPhone/iPod disconnected;
Claiming the backup could not be completed because the iPhone/iPod disconnected;
Claiming that sync was successful however when I would go into the device the podcasts I had wanted to sync were missing;
At one point it erased all of my Music on both the iPhone and iPod… iTunes claimed it was still on the device however going to the Music app brought up nothing and when browsing to the device using My Computer on Windows 7 both 64GB devices which typically show 2-4GB free were showing over 57GB free… (Syncing 57GB of music to any device is a slow process… not pleasant when it goes missing)
Oddly enough my iPad which only syncs via wifi was not affected…
So… troubleshooting time. I did several searches on the web looking for solutions… tried doing a complete uninstall of iTunes (not helpful), tried clearning sync history in iTunes (not helfpul), deleted old backups on Windows 7 located in C:\User\<username>\AppData\tried restoring the devices (excellent solution until the next sync… which failed…), tried cursing at: iTunes/ iPod/iPhone/my computer/Microsoft (this was partially helpful in that the venting cleared my head to move on to other ideas….), tried disconnecting/repositioning usb connections (positive result – dust bunnies behind my computer have been cleaned out), finally I read somewhere where it might be the TCP/IP protocols (if that would have come first to mind for you – you're more of a geek than I am!)
Turns out the Winsock2 keys were corrupted. If you'd like to read more on Winsock3 key corruption visit http://support.microsoft.com/kb/811259 if you just want to fix the dang thing and get on with life in in Windows 7 or Vista:
Run a cmd prompt as administrator (click start in the search bar type cmd when cmd.exe comes up at the top right click it and select "Run as administrator"
Type netsh winsock reset at the command prompt and then press ENTER (if you type it wrong you will get an error – you should get a message about the reset completeing successfully.
Type exit and then press ENTER; to close the command promt.
Restart your computer…
After reseting the winsock I've managed to have multiple successful sync… so nice to smoothly start my morning routine again!