Last week I got a very unexpected email telling me I had won an iPod touch during a random drawing from a NAPP member survey. It arrived 5 days later and became the first Apple product I've ever owned. I've used iMacs before but have a dislike in general of products that are highly proprietary. Thus, my mp3 players of the past have been relatively generic. Ie: no Zunes, no iPods. I'm currently actively using 3 besides the new iPod. I'm going to give a brief rundown of each and then my thoughts on the new iPod.


The oldest player in use is a Cowon D2. This player has the best sound of any of the players. I use it solely to play music even though it will play video as well as other features. It is relatively small, making video non exciting but I love the sound quality and its incredible battery life of around 50 hrs. I end up charging it once a week typically. It uses either MTP or MSC and I sync it with my favorite music software – MediaMonkey. I wish it had better playlist capability. But overall I love it for music and it has been a constant friend since October 2008.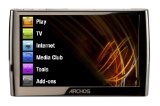 Next toy would be the Archos 5 IMT. I purchased this player in July 2009 during an Amazon.com Gold Box Deal. After purchasing a couple pluggins for it, it plays pretty much anything I throw at it including .vob files… With 250 GB it holds all of my music collection, lots of video, various PDF files and anything else I wish to dump on it. It has a lovely home docked in its DVR station and plugged into my stereo system/tv. It is portable though not pocket sized. That said, its screen size is nice for watching videos/movies on the player itself. With it's hard drive format it is not as durable as a flash based player so it isn't something you'd want to carry around alot. Most of the time it is left docked and playing music. I've found my favorite MediaMonkey auto playlist feature is the ability to play albums randomly. With 70gb of mp3s this lets me hear various albums I might have forgotten about and keeps constant variety without the constant confusion of random songs which tends to drive me nuts… I prefer to keep songs together in an album unless I'm doing random by artist or genre. Random Albums is awesome!

Next up would be my tiny Sansa clip+. This was bought solely for use while running. Cheap, tiny, micro sd expansion = perfect running companion. Sound isn't the greatest but I don't care much if it gets dropped etc. Not really much to say about it – it works for what I want it for.

And then came the iPod. I've used iTunes in past to download podcasts but I use MediaMonkey for most music tasks. Luckily, once you sync the iPod for the first time, MediaMonkey can be used to manage the music on the device which is my current process since the iPod won't play any files in flac, ogg or wma… MediaMonkey will convert them on the fly while adding to the iPod. However, with only 8GB on the model I won I never had much intention of using it for music – I have my cowon for personal playing on the go etc, the Archos covers the main stereo in the house, and the Sansa is great for running. What has sold me on the iPod Touch is the ease of use AND it syncs my data from Outlook! Bye bye old Dell Axim PPC! The iPod Touch stores all my contacts, my various notes, and my calendar and seamlessly syncs with outlook – something my Samsung phone is supposed to do but makes a mess of my notes and calendar. Not only that it's Bluetooth syncs beautifully with my car and allows me to play BBC news podcasts without any wires.. nice. So the consensus is that I love the iPod touch as a portable day planner and podcast player and I keep finding added bonuses – like this WordPress app which I've used to create this post away from my computer!