I finally manage to get my new camera body… a Canon 5Dii. I noticed that B&H actually had an "Order Now" link even though it still stated 'back-ordered' and decided to take a chance. 2 Days later I got a shipping confirmation stating it would be delivered on Friday (Jan 16) sometime between 8am and 7pm and that it required an adult signature…Â So I waited around the house for the big brown truck to show up. It finally did around 5pm and then I had to wait a couple hours for the battery to charge.
All in all I'm very pleased with it. The live view is going to take some getting used to it being an option… somehow it just seems wrong in ways for a camera with a true shutter to have 'live view' however I have seen a couple areas where it is useful and I think it is the only way you can actually take video with it… how odd to think a SLR with video capabilities.
Mine has the newer 1.0.7 firmware on it. So apparently I don't need to worry about any of the issues that the previous firmware had with black spots by lights and vertical banding at higher ISO. However, I quickly found out that LR2.2 and ACR 5.2 do not currently display sRAW1 or sRAW2 files created with the newer firmware correctly. Their is a very noticeable magenta shift in the shadows and the tone curves just don't seem right either. This has lead me to shooting the full RAW files which are HUGE (24-26MB each).
This leads me to my current quest in trying to figure out if there is a way to move the LR preview cache files folder somewhere else besides with the LR catalogue itself. Currently, I have my LR catalogue on my DATA drive – however with such large files the cache is growing huge and I'd love to put in on one of the other 'temp' drives that I don't regularly backup – no need in backing up a cache folder! Apparently, I'm not the only one who has come up with wanting to do this. I managed to find a post by Sean McCormack stating how to do it on a Mac OSX… now to figure out doing it on XP… apparently it can be – it is just actually doing it at this point…
UPDATE: Ok… first I checked out Junction v1.05 by Mark Russinovich which is the simple command line way of going about symbolic links on XP. However, sitting and trying to think cmd line made my head hurt. I just want to get back to playing with the shots I took this morning and yesterday of the snow.
Like mounted hard drives, for junctions, the host folder has to be empty. So I moved all the existing preview files within D:\My Documents\My Pictures\Lightroom\My Database\Lightroom 2 Catalog Previews.lrdata to the new home R:\LR Preview Cach leaving the Lightroom 2 Catalog Previews.lrdata folder empty. (This might also take a while if you have of previews already created – you can alternately just empty the folder by deleting the files inside and then have LR re-create the preview files. I decided I didn't want to recreate the previews so I just moved them while making lunch.)
Since I didn't want to deal with command line, I next checked out Rekenwonder Software's Junction Link Magic which has a GUI interface. Quick download. When you open it, it scans your system for existing junctions (this might take awhile if you have several hard drives with a lot of folders. XP has a couple for the core of windows and then it found the two hard drives I found mounted in folders. Then press "create" and it pops up with the create junction point host and target windows. Once you have the empty host folder, select the two folders as shown below and click "Create."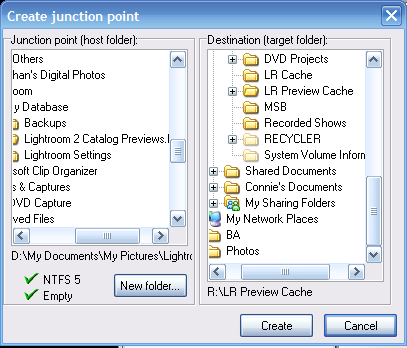 After a warning that some unexpected things can happen using junctions (similar to mounted drives) it creates the Junction.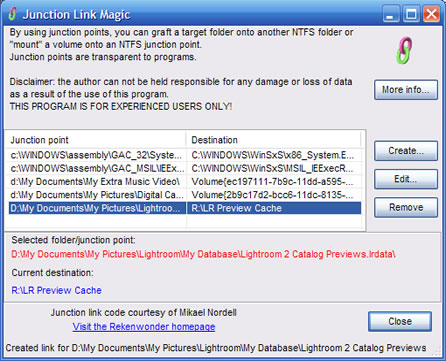 Open up LR and everything works fine… LR thinks the data is still in the Lightroom 2 Catalog Previews folder since the OS sees the two locations as identical… however the data only officially resides on my R: drive now not on my D: If you are unfamiliar with mounted hard drives or junctions be sure to read about some of the quarks that come with them – especially when it comes to deleting files/folders within them.