Background: Since building the new computer, I have noticed with both the built in soundcard on my ASUS P6T Deluxe V2 and with the Creative X-Fi Fatal1ty Pro there is a noticeable latency problem with the line-in in Windows 7. When I say noticeable it was VERY noticeable by me and drove me crazy. My non-muscial husband on the other hand didn't notice it until I pointed it out and even then it didn't bother him… In basic terms it is a time delay experienced in the system such that the audio through the line-in port has a slight delay from the live audio source. Not something I ever experienced with Windows XP.
This weekend it was particularly annoying in that I was trying to play the stereo through speakers outside where my husband and son were working on ripping out some brambles as well as through my computer where I was working on SFLMA.org's site. Since I could hear both the sound through the outside speakers and my computer the latency issue was driving me insane and I eventually went to wearing headphones.
So this morning I decided I really needed to figure this issue out! From various searches this seems to be a common issue with Vista SP2+ and Windows 7 regardless of the soundcard being used. I found if you change where you activate the Line-In then the latency issue goes away. There are two ways to listen to the line in.
Method 1: Control Panel > Sound. Click on the Recording tab. Select Line-In. Click on the "Listen" tab and check the "Listen to this device".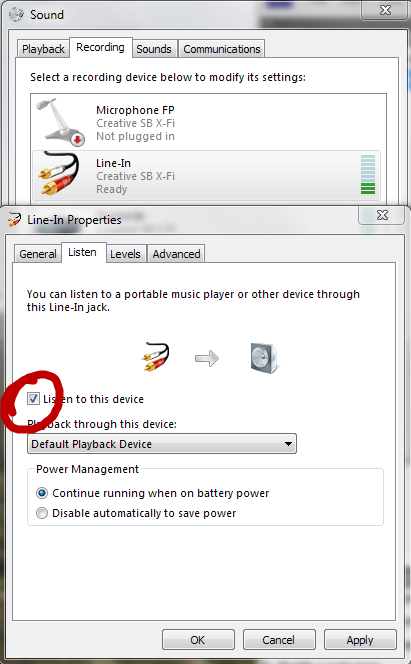 This method is the one which causes the latency issue. Also, the computer will not go into standby if this method is used… IE this method is NOT very useful!!
Method 2: Control Panel > Sound. Click on the Playback tab. Select the Speakers. Go to the Level's tab. Un-mute the Line-In and raise the level! And now Line-In works without the latency issue! YEAH! I haven't left the computer long enough to see if it still goes to sleep or not with this setting but will update when I find out. (UPDATE: the system does enter sleep just fine with this set up!)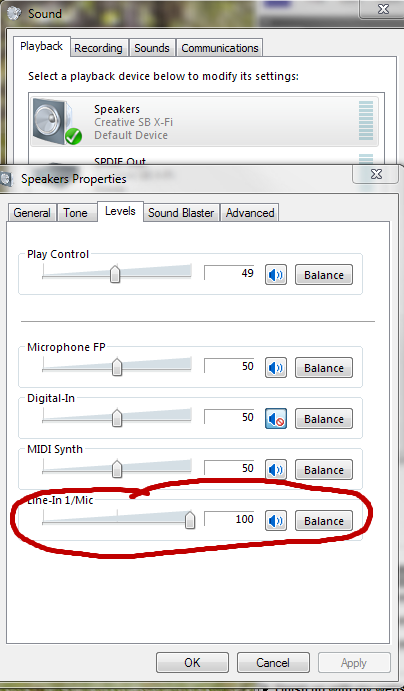 I'm thinking somehow when you activate the Line-In through the Record panel it has to go through the drivers and windows 7 where as when you activate via the Speakers panel it is processed in the soundcard itself. Only a guess… I'm just glad that it is finally working properly!
NOTE: When you use Method 2 be sure that you disable Method 1!