In January of this year I did a presentation for GrotonSOSA explaining how Navy dependents can sign up to use the Navy's Online Lending Library to get books for their kindles and other electronic reading devices… I thought it might be helpful if I also posted that information here.

Start at the Navy's Library on Overdrive.
Follow the directions for New Users.
You will be greeted with a scary security certificate error because this site you are going to is a subdomain of navy.mil and the certificate was not issued for the subdomain itself.
You read a URL from the right to the left so this link takes you to .mil (military), navy (owned by the navy), mwrdigitallibrary (the navy's mwr digital library 'building'…) It is a valid and safe site. For internet explorer just click "Continue to this website" for Google's Chrome you will need to click on the "Advanced" and then you can click on "Proceed to mwrdigitallibrary.navy.mil"
You are now on the NavyMWR Digital Library page you need to click the "Login" on the top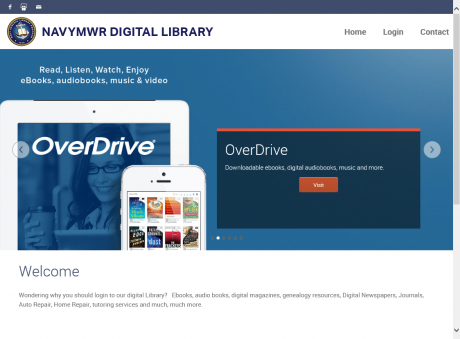 This is the next page you will see: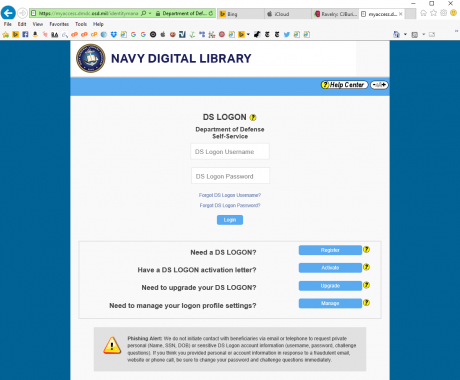 If you have a DS Logon – just logon otherwise click the "Register" next to Need a DS LOGON and you will see: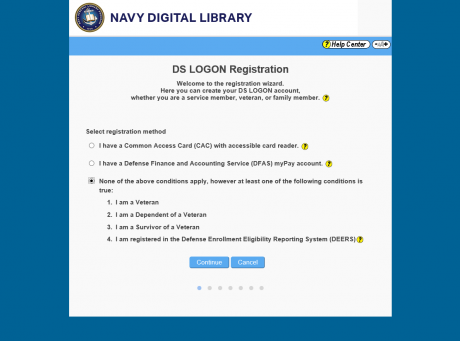 If you have your husbands MyPay account login information you can probably use the 2nd option to create a DS Logon. We are going to do this all as
a dependent for those who do not have MyPay logon information so select the last option..
Push Continue…
NOTE you are now on a GREEN/Secure osd.mil site!
You will be asked your name, birthday, and SSN. You will be given a username and you have completed the first part but you need to get more access
so click Begin…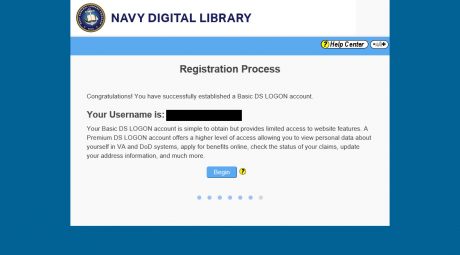 You will need your Military ID for the number on the front…
You will also be required to answer several multiple choice questions based on your credit report!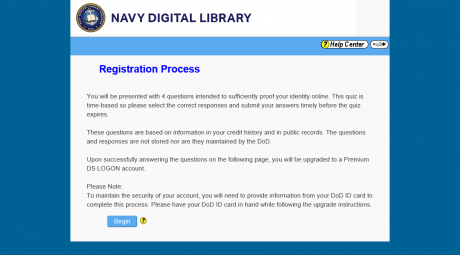 Once you finish this process you will have FULL access to the DS LOGON… go back to the Navy's Overdrive account and this time you do have a DS Logon so Login!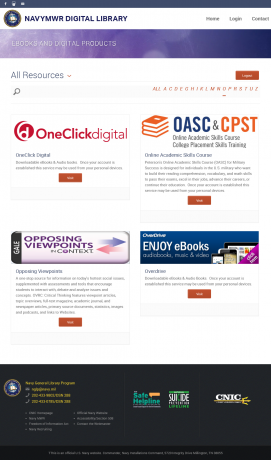 There are lots of options! Go to O and select Overdrive (bottom right item in the image above) it will go back to the overdrive page – now in the lower portion you can create an account with any email address and password!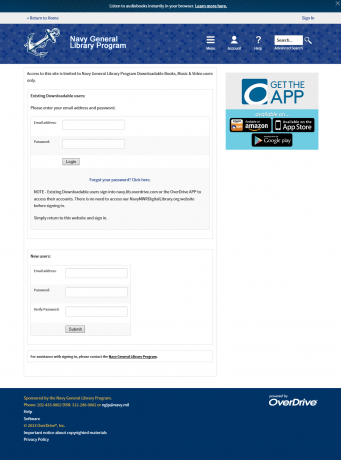 In the future you can just go to the navy.lib.overdrive.com and login with this email/password combination!
Back on the Navy Digital Libary site you might also want to check out Zinio and their HUGE collection of digital magazines… again completely free!