A Reliable Wife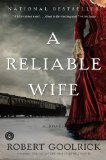 Started reading:

26th January 2010

Finished reading:

30th January 2010
Tags:
Review & Quotes
Rating: Unrated
February SOSA book club book – I wasn't planning on reading this one but I saw it at the local library when I was in there and when I asked the librarian about it she mentioned it was really good so I picked it up.
It only took me 4 days to read it. It is very well written and the 'mystery' as to how the three main characters are entwined and how they end up in the end made it hard to put down. Basic idea is early 1990s – a lonely, rich man puts out an ad looking for a 'reliable wife'… from there you explore the alternative motives that both the man and the woman who answered the ad had in their lives…
Good book club book as there will be much to discuss.