Brick Lane
By Monica Ali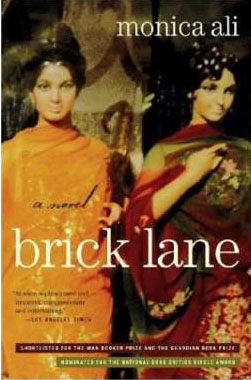 Review & Quotes
Rating: 7
I got this book from my friend Kristin.
It is a story of Nazneen – a Bagladeshi girl born prematurely and thought orginally to be dead. When she turns 18 she is married off to Chanu, a Bengali immigrant twice her age living in England. At first Chanu seems to be an intellectually however, he turns out to be more talk than action. Nazneen slowly adapts to living on "Brick Lane" in London. Makes some great friends also Bengali living in the same complex esp. Razia.
The story also focuses on the issues facing the immigrants. The differences between the immigrants and their children and the childrens absorption of the English culture as well as drugs. It also deals with the awkward feeling the family has following 9/11 – wishing to blend in with their adopted culture, not being fully accepted, and being pressed to join the more radical groups wanting to press the islamic culture.