The Friday Night Knitting Club
By Kate Jacobs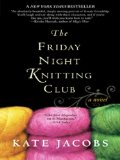 Started reading:

1st May 2011

Finished reading:

22nd May 2011
Tags:
Review & Quotes
Rating: Unrated
This book was ok… It was nice easy relaxing read though it jumped around a bit. It basically follows Georgia and Dakota, mother and daughter of the yarn shop Walker and Daughter in NYC. Georgia starts the shop after finding out she is pregnaunt with Dakota and is given a boost by mentor Anita who she randomly meets one day in central park. It then follows the main visitors who make up a knitting club on Friday nights.
A few quotes I tagged…
Pg 38
Casting on
The only way to et going is to just grasp that yarn between your fingers and twist. Just start. It's the same with life. Of course, every
beginning won't be the same: There are dozens of ways to cast on and they vary based on skill or design or even just relying on the tried and
true. My point? Sometimes what works for one piece isn't the right way next time. You have to experiment to see what works. But there's a
similarity no matter the method: you either try or you don't. So form a slipknot; make a series of twisted loops on one needle and then use
its partner to reach through and make a stitch. Cast on is as much leap of faith as technique.
Pg 137
"when you're young, you always thing you'll meet all sorts of wonderful people, that drifting apart and losing friends is natural. You don't
worry, at first, about the friends you leave behind. But as you get older, it gets harder to build friendships. Too many defienses, too
little opportunity. You get busy. And by the time you realize that you've lost the dearest best friend you've ever had, years have gone by
and you're mature enough to be embarrassed by your attitude and, frankly, by your arrogance."
Pg 200
After a certain age – following college, perhaps, or upon turning thrity – there's so much stuff in the brain that other things get shoved
out. To the back of the line. Sometimes a woman just dones't remember everything that's takne place in her life. And who could blame her?
Pg 327
"We don't all love our jobs every day. And doing something you have a passion for doesn't make the work part of it any easier."
"It doesn't"
"No, it just makes you less likely to quit."