The Pact: a love story
By Jodi Picoult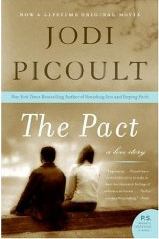 Started reading:

26th April 2009

Finished reading:

13th June 2009
Tags:
Review & Quotes
Rating: 9
The first Jodi Picoult I read was "My Sisters Keeper." I was struck by her ability to start at a point of a story and them move forward from that point as well from a point well before that until the full story is told from several different angles. It is the use of these different angles that really makes the stories come alive and remind you that there are different sides to every story… and to not jump to conclusions as to right/wrong…
"The Pact" was Jodi's fifth book and deals with teen suicide. If you read her notes in the back of the book, her goal was to write the opposite of Romeo and Juliet. Instead of the kids' families hating each other, Chris and Emily's parents were best of friends and always expected Chris and Emily to be together and are thrilled when the two become boyfriend/girlfriend. However everything isn't as rosy as it seems as Emily has some pretty major secrets she has never told anyone, not even Chris and it is these secrets that lead her to wish to commit suicide – and Chris' love for her which puts him in the scene. It starts with Emily being found dead… and Chris being suspect of murder…
Riveting and well written as all of Jodi's books are this was another that was hard to put down and will leave you thinking for some time.
Jordan McAfee serves as Chris' defense lawyer in this book and this is the first book by Jodi that this character, his son Thomas and investigater, Selena show up. They later show up in "Salem Falls" and again in "Nineteen Minutes" with the relationship between Jordan, his son and Selena are also expanded.