The Philosopher's Apprentice
By James Morrow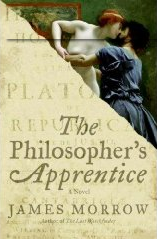 Started reading:

1st December 2008

Finished reading:

23rd December 2008
Tags:
Review & Quotes
Rating: 7
I picked this book up at our local library as the cover was intriging and the blurb in the jacket even more so…
Turned out to be a very bizarre and yet thought provoking book… Mason Ambrose starts out defending his thesis in philosophy then walks out on the dissertation and is promptly hired by an eccentric bio-engineer to teach her 'daughter', Londa, who has 'no moral compass' ethics. Effectively becoming Londa's conscious.
An interesting look at the ethics of genetic engineering, abortion, corporate and political use of power and money and theism as well as various philosophies.