Kingdom of the Golden Dragon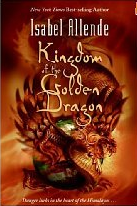 Started reading:

10th February 2009

Finished reading:

16th February 2009
Tags:
Review & Quotes
Rating: Unrated
This is the 2nd book in a 3 book 'young adult/children's' series by Isabel Allende. In the first a young buy named Alex accompanies his grandmother Kate (a journalist for a International Geographica), to the Amazon and meets with the mysterious people of the mist who they manage to save from some unscrupulous people tyring to take over their land. And makes a new best friend in a girl named Nadia.
Now the 3 are joined again, this time heading off to the Forbidden Kingdom where Alex and Nadia help in saving the Golden Dragon…
I found the 1st book better than the 2nd which seemed to repeat itself several times but since it is written for 10-14 yr old that is probably best. It does a good job of introducing some of the concepts of Buddhism amongst the story line.