The Calligrapher's Daughter
By Eugenia Kim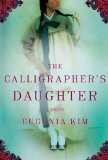 Started reading:

7th September 2010

Finished reading:

3rd October 2010
Tags:
Review & Quotes
Rating: Unrated
I picked this book up at the library while browsing the new books section. It wasn't one I had heard of before but generally liking historial fiction I picked it up. I was not disappointed. It was a very interesting book following the life of a Korean girl from here birth in the early 1900's to the end of the second world war.
Najin is a very independent girl who ends up naming herself and her own way in a rapidly changing Korea under Japanese invasion. With the help of her mother she escapes an arranged marriage at the age of 12 by going to her aunt's in Souel where she becomes a companion of the young princess at the last royal court. After the royal family is murdered she returns home and arranges to get an education in teaching and nursing at the girls college. She returns home and a marriage us arranged with an upcoming minister – a Korean planning to be ordained in the US. One day after their wedding, Najin's passport is denied and Calvin goes to the US without her. 10 years pass before they are reunited following the war.
I found the Korean history to be very interesting as it explains the animosity between Korea, Japan, and China. It also shed light on the creation of North and South Korea.