Her Fearful Symmetry: A Novel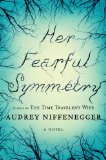 Started reading:

18th February 2010

Finished reading:

2nd March 2010
Tags:
Review & Quotes
Rating: Unrated
Strange ghost story… Elspeth Noblin leaves her flat in London to her twin sister Edie's, twin American daughters, Julia and Valentina, on the condition that the twins live in the flat for a year and their parents can never step into the flat. Other characters are Elspeth's lover Robert who owns the flat below and Martin, a crossword setter with OCD, who lives in the flat above… And Jessica who heads up the friends of the Historic Highgate Cemetery (which the flats border) and is a sort of motherly figure towards Robert.
Julia and Valentina move in… Julia befriends Martin, Valentina befriends Robert and then Elspeth's ghost…
Much of the story deals with twin identity and the struggle between one twin wanting to hold on to the twin identity while another struggling to become more of an individual.
Niffenegger alternates telling the story from various characters points of view… sort of like Jodi Picoult…
I wish there was more developement between the characters of Jessica and her husband James – felt like there should be something more there – the Jessica was always on the verge of telling Robert something about ghost but just never got around to it…
The ending was a bit bizarre and took off in a strange direction… sort of reminded me of the ghosts in Joanne Harris' Sleep Pale Sister…